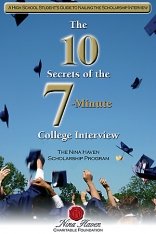 Drawing on their four decades of interviewing young people for Nina Haven scholarships, the members of the Board of Directors committed to paper their advice on how a student can make a great first impression and nail the scholarship process.
The result of their work is
10 Secrets to the 7-Minute Scholarship Interview.
Although interviews typically last longer than seven minutes, those first few minutes are the ones that tell an experienced interviewer whether the person being interviewed is worth the investment of scholarship dollars---or not.
The booklet is distributed at no charge to seniors in the high schools of Martin County. It is available to the public at a cost of $5, with the proceeds benefiting The Nina Haven Scholarship Program.