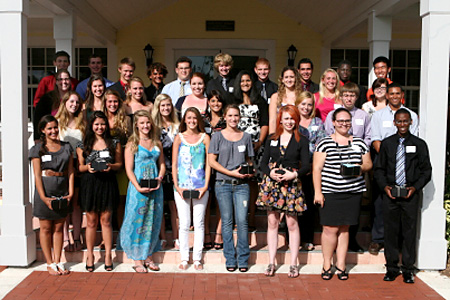 First row

: Francesca D'Amiano, Michelle Harmon, Madison White, Robyn Russell, Erika Ghazal, Katherine Riden, Juliet Unger, Kieran Queen.
Second row

: Ashley Hamar, Amanda Alker, Kimberly Kemler, Savannah Waller, Dominique Brower, Kevin Peavler, Michael Miedzianowski.
Third row

: Devon Taylor, Jennifer McBride, Jordan Alves, Marie Mahovetz, Mary Kelly, Emily Garrett, Kelly Scott, Kasey Nell.
Fourth row

: Michael McKeever, James Phillips, Peter Merritt, Wesley Morgan, Timothy Lee-O'Connor, Nicholas Gangi, Zachery Mahoney, Sebastian Collins, Steven Servius, Raymond La.
Not photographed

: Samantha Fritschle, Andrea Soto.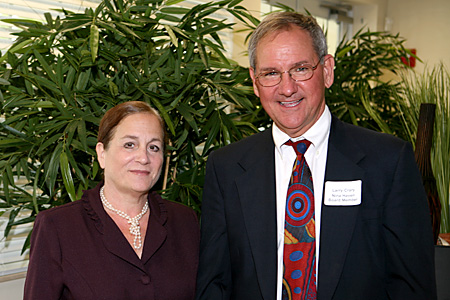 Penny Sugar, Development Director for VGTI (Vaccine and Gene Therapy Institute), was the 2011 Keynote Speaker for the Circle of Scholars reception. She is pictured here with Board Member Larry Crary. Ms. Sugar told the Nina Haven scholars, "I like to say that VGTI stands for Very Good Things in Store, and that is true for all of you. You have gotten through the first hurdle. There are more hurdles to come. Your future is up to you." She also advised the scholars to stay in touch because there are more and more opportunities developing on the Treasure Coast for educated young people. "We'd like to have you back some day to work with us," she said. "And you can bring your laundry home."